Stithians School is very lucky to be blessed with a large and beautiful outdoor space. Since April 2022, we have been working hard to develop the school grounds to maximise its potential for outdoor learning.
As members of our staff team enthusiastically embarked on Wild Tribe training, we needed our outdoor space to develop quickly so that we could nurture a culture of outdoor learning.
We began by clearing the brambles by the stream in order to make it accessible to the children. Revealed was a tranquil space, rich in wildlife and the perfect spot for gathering…
In January I discovered a project offering free mini forests to schools and communities. Eager for Stithians to be part of it I messaged straight away and in February half term, our very own mini forest was planted. This is an amazing addition to our school, planted with fast growing plants and trees that will reach maturity in 3 years. Gunwalloe class got their hands dirty and finished the project by planting the final 35 trees.
What is the Mini-Forest?
The Mini-Forest is an area of densely planted trees and shrubs that will grow together to form a diverse and multi-layered habitat, providing a place for nature and for learning. The Mini-Forest has been designed and planned in accordance to some of the key principles of the 'Miyawaki Method' of creating new forests, which has recently gained increasing popularity around the world.
What are the key purposes of the Mini-Forest?
• To replace a 'green desert' of grass with a new, structured habitat that will support nature recovery and biodiversity by providing shelter/protection and an ongoing foraging resource for the local wildlife population.

• To drawdown and store carbon and demonstrate how small, planting projects, delivered on a local level, can make a big, positive difference in the fight against a changing and increasingly unpredictable climate.

• To provide a unique space for learning and leisure and encourage pupils to connect with nature and understand natural processes.

• To provide environmental learning resources and an ongoing supply of materials for arts and crafts and science-based activities
Who paid for the Mini-Forest Creation?
The funding for the Mini-Forest came from the Woodland Trust's Emergency Tree Fund which was awarded to Cornwall Council to support the delivery of the Forest for Cornwall initiative. The Emergency Tree Fund aims to make up for a current lack of investment in trees and to help different Local Authorities to break through existing financial barriers, in order to get
more trees planted and new woodlands established.
https://www.woodlandtrust.org.uk/press-centre/2021/03/emergency-tree-fund/


Who created the Mini-Forest?
The Mini-Forest was designed, created and project managed by Steve Evans, director of Tree Investment Ltd. Steve is a committed, professional arboriculturist, with over 30 years of wide-ranging,international experience working with trees, covering all aspects of the arboricultural industry. He is a Chartered Environmentalist, accredited through the Arboricultural Association, and holds the Level 6 Diploma in Arboriculture. Steve also operates a tree nursery business, Arbor Farm UK Ltd, which supplied the locally grown trees and shrubs for the Mini-Forest creation.

www.treeinvestment.co.uk
www.arborfarm.co.uk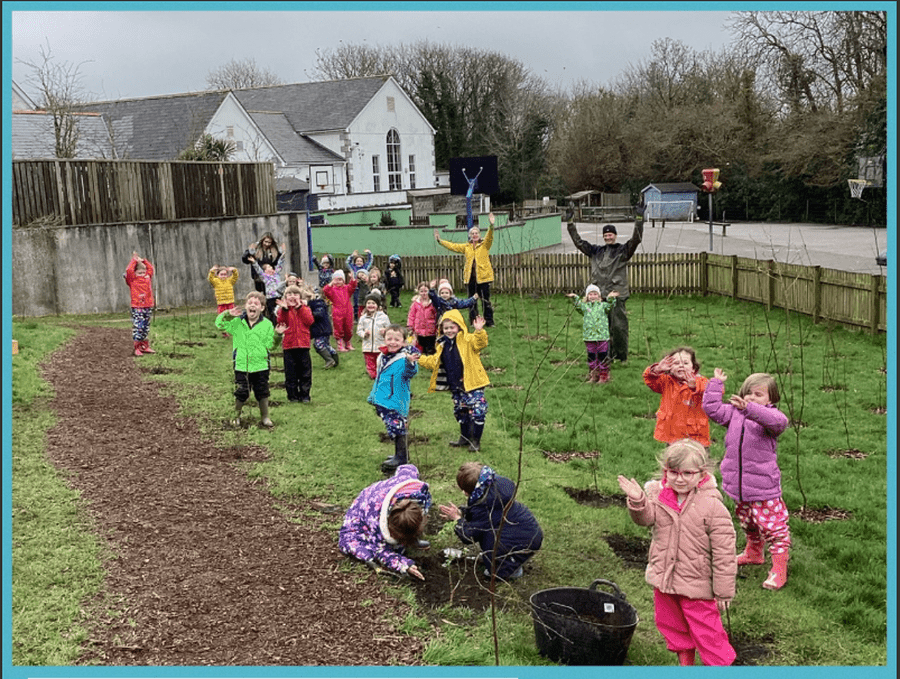 The Gates!
In the quest to ensure our outside space is inspiring, safe and accessible, we installed gates which would span the private lane between our school field and the main school site. The gates, when open, lock together to ensure safe passage to the field and stream. When closed, they keep the school site secure, the school field secure AND allow local farmers access to their field.